Be more productive with Einstein Voice. Let's say you have a productive meeting with a customer on the road. You now will also be able to use Einstein Voice to verbally log the update through the Salesforce mobile app. Einstein Voice will intelligently find the relevant record and automatically updates fields with the latest information, creates follow-up tasks and notifies teammates. Be more efficient with the Einstein Voice Assistant and automatically convert your unstructured voice data into 'useful insights'.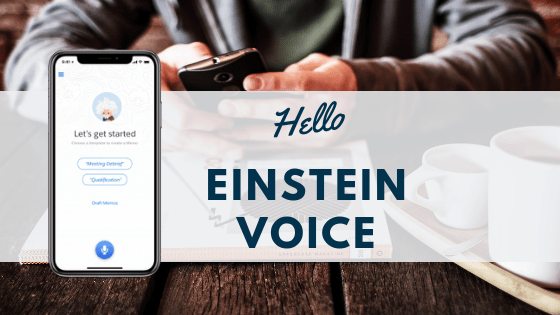 Here's how the artificial intelligence makes this all work. As you verbally dictate your memo, Einstein Voice transcribes the audio stream to allow the natural language understanding models to classify what types of updates you need to make to the various fields in Salesforce. It then extracts and normalizes the inputs to match the required field formats, like the close date and deal amount for a given opportunity. It is not only thinking about how actions impact your business, but also what you need to do next. So Einstein Voice Assistant can create tasks and understand terms like "next month" to make sure Salesforce reminds you at the appropriate time. Einstein Voice Assistant finishes this all off by logging an event on the record and ensuring all relevant contacts are included in the event's details, making you more productive.
Cloud Force supports your organisation and employees with the digital transformation of business processes. Cloud Force delivers consultancy, business analyses, project management, development and administrator services in each stage of your process and with the support of highly qualified professionals. Start working with Cloud Force today.