Happy with all the positive COVID Vaccine news!  A turnaround, time for more optimism as we can look forward and plan better our Salesforce activities again? The coronavirus vaccine developed by Pfizer and BioNTech appears to protect 94% of adults over 65 years old according to this BBC article. Hopefully soon we are able to protect the elderly and the care professionals. Less restrictive measures, and more freedom for all of us.
Many of us have had the opportunity to work completely online from home. You often hear that people miss real contact with colleagues. To some of us it still looks more like survival and it remains difficult to move forward with full speed. At CloudShare we used this period to accelerate the development of the new partnership with Salesforce and expand our services. In addition to Project Services, we now also offer you Solution Services with great Salesforce people.
Pre-Launch Solution Services
  Our heroes drive our pre-launch this quarter and we love to make future plans with you. We share our Salesforce knowledge, experiences and skills with you, provide you new insights and create great solutions for you. Work with Salesforce professionals from 15 different countries all over the world. Connect with CloudtoShare Solutions and discover how we can help you with your Salesforce implementation and continuous improvements. 
Patrick: "Over the past 25 years I have worked with various CRM systems in various roles. In 2010 I started with Salesforce and as a project manager and consultant I realized many succesfull Salesforce implementations at multinational companies and SMEs. With CloudtoShare we now offer Solution Services in addition to Project Services. More options to achieve excellent quality with great Salesforce professionals who achieve more together."

Connect with CloudtoShare Solutions
Let us know what you want to achieve with Salesforce and provide us with more information about your situation. We would like to know more about your solution request so that we can make a solution proposal for you. You will then be given the option to immediately schedule an online Salesforce Consultation with CloudtoShare or you can wait while we contact you. Share your challenge with us and connect with CloudtoShare Solutions.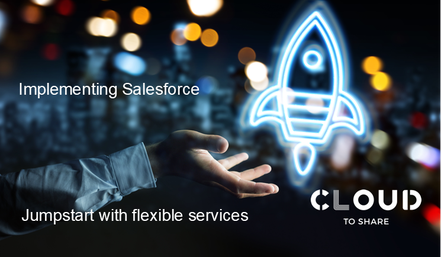 *Your privacy is important to us. In connection with the European privacy legislation we ask your permission for the storage and processing of your data. Our privacy policy can be viewed at the bottom of our website. 
We offer flexible services and a tailor made approach with solutions as a service. We share our Salesforce knowledge, experiences and skills with you, provide new insights and create great solutions. We invite you to connect with CloudtoShare solutions and discover what we can do for you with our solution request service.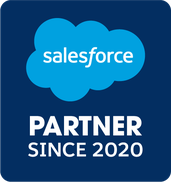 Cloud technology offers new possibilities for sharing information and organizing work tailored to your needs. We offer you flexibility and a tailor made approach for your Salesforce implementations. CloudtoShare is as a Salesforce Partner trusted and certified to implement Salesforce. We help you with flexible services when implementing Salesforce CRM, the global leader in Cloud based CRM software.