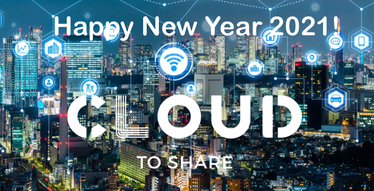 Happy New Year 2021
Very excited to welcome 2021, and to leave 2020 behind. Wish you all health and success in this new year. In particular, I would like to thank Volvo Financial Services and BrandLoyalty for the trust, great ambitions and great work pleasure! I am also incredibly grateful to all the Salesforce experts who work from CloudtoShare on our new Global Solution Services. And of course very grateful to Salesforce from San Francisco who has certified CloudtoShare as a Salesforce Consulting Partner.
Stay Healthy and Safe in 2021!
CloudtoShare
Patrick van Deursen
Solution Services
 After our succesfull pilots we are now launching our Solution services. We love to make future plans with you. We share our Salesforce knowledge, experiences and skills with you, provide you new insights and create great solutions for you. Work with Salesforce professionals from 15 different countries all over the world. Connect with CloudtoShare Solutions and discover how we can help you with your Salesforce implementation and continuous improvements. 
Patrick: "Over the past 25 years I have worked with various CRM systems in various roles. In 2010 I started with Salesforce and as a project manager and consultant I realized many succesfull Salesforce implementations at multinational companies and SMEs. With CloudtoShare we now offer Solution Services in addition to Project Services. More options to achieve excellent quality with great Salesforce professionals who achieve more together."