Excited to open up CloudtoShare Solutions, a new global solution service with great people. We fuel your engines and get you started with Salesforce. We help you now also with subscription services, giving you more flexibility and continuity. Subscribe now to CloudtoShare from 50 hours per month. You get high quality Salesforce expertise. This gives more flexibility and also interesting cost advantages. We share our Salesforce knowledge, experiences and skills with you, provide new insights and create great solutions for you. Connect with CloudtoShare Solutions and discover how we can help you with your Salesforce implementation and continuous improvements. 
Patrick: "Over the past 25 years I have worked with various CRM systems in various roles. In 2010 I started with Salesforce and as a project manager and consultant I realized many succesfull Salesforce implementations at multinational companies and SMEs. With CloudtoShare we now offer Solution Services in addition to Project Services. More options to achieve excellent quality with great Salesforce professionals who achieve more together."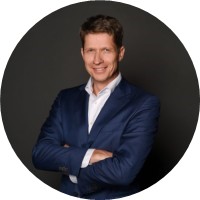 Connect with CloudtoShare Solutions
Let us know what you want to achieve with Salesforce and provide us with more information about your situation. We would like to know more about your solution request so that we can make a solution proposal for you. You will be given the option to schedule an online Salesforce Consultation with CloudtoShare or you can relax while we contact you. Share your challenges with us and connect with CloudtoShare Solutions.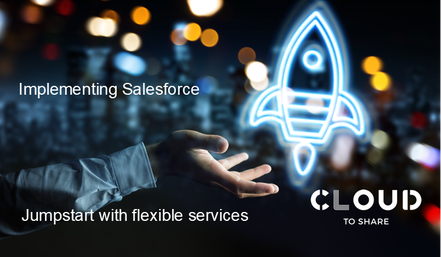 Improve Customer Experience with real-time, actionable, customer intelligence across your organisation. We help you with 25 years of CRM experience, 10 of which with Salesforce, the worldwide market leader in Cloud-based CRM solutions. We offer you flexibility and a tailor made approach.